Alfred Brendel - My Musical Life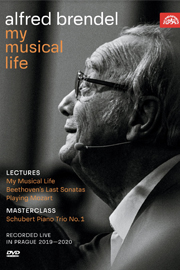 Lectures: My musical life - Beethoven's last sonatas and his late style - Playing Mozart. Masterclass: Piano Trio No. 1 in B flat major, Op. 99, D 898
On 5 January 2021, Alfred Brendel, the world-renowned Austrian-British pianist, celebrates his 90th birthday. To mark the occasion, Supraphon has come up with a special present, which will delight all the fans of the great classical music figure's work. The label is releasing a DVD titled Alfred Brendel – My Musical Life, featuring documentary footage of the lectures and the masterclass Brendel gave in 2019 and 2020 during his visit to Prague upon the invitation of the Prague Music Performance and the Czech Philharmonic.
Available at:
» Supraphon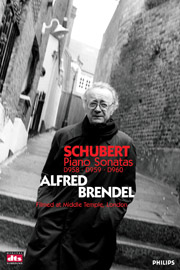 Sonata in C minor, D958, Sonata in A major D959, Sonata in B flat major D960
Philips DVD 070 1139
This DVD makes available again the memorable TV recording made in 1988 at the Middle Temple, London, in which Brendel performed the composer's final three piano sonatas. These sublime works are repertoire in which Brendel has few peers, and the DVD booklet contains an extensive essay on these pieces by Brendel himself.
Further the to the original VHS and Laser Disc release, this new DVD features both CD-quality stereo and a DTS 5.1 surround sound.

A perfectionist at the piano...master pianist Alfred Brendel.

The Sunday Times

Alfred Brendel, a master Schubertian, is the most probing and lyrical of pianists.

Paul Saylor, AV Review
Duration: 105 mins, colour
TV Director: Humphrey Burton
Recorded: The Great Hall of the Honourable Society of the Middle Temple, London, 1-3 January 1988
Available at:
» Amazon US
» Amazon UK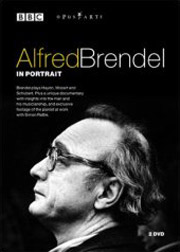 A documentary and live performances
BBC-Opus Arte DVD 2001
Alfred Brendel is an artist whose main work - interpreting music written for piano - is powerfully illuminated by reference to many other aspects of his life, including his love of paInting, literature, theatre and nonsense. Filmed over a period of two years, this TV documentary explores the musical and non-musical influences that have shaped Brendel's life. It highlights the creative process as he collaborates with many fellow artists. Highlights of the programme include a rehearsal of Schubert's Winterreise, with the renowned Matthias Goerne in Cologne; a reading of his own witty, and often obliquely self-revelatory, poems; and the rehearsal in Vienna of The Beethoven Piano Concertos Nos 2 & 3 with Sir Simon Rattle and the world-famous Vienna Philharmonic Orchestra.

A Rosetta Pictures production for the BBC and ZDF in association with ARTE.
Available at:
» Amazon US
» Amazon UK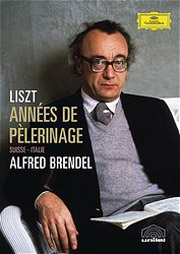 Années de pèlerinage Anni di pellegrinaggio
Alfred Brendel Directed by Humphrey Burton
Deutsche Grammophon DVD 073 4146
Alfred Brendel offers evocative rendering of Liszt's Années de Pèlerinage I & II
In this 1986 performance, Alfred Brendel – among the world's foremost pianists and leading experts on Liszt – gracefully melds the technical and poetic aspects of one of the most rewarding of all Romantic piano works
Available at:
Amazon US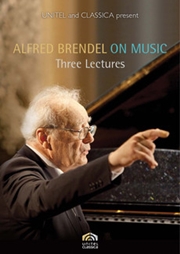 Alfred Brendel on Music - Three Lectures
Unitel, Directed by Mark Kidel
Alfred Brendel, one of the greatest pianists of the 20th century, has, over the years, written highly original musical essays. Now retired from public performance, he is presenting some of his most acclaimed written work in the form of lectures. In three sessions specially presented for the camera Brendel takes his listeners on a journey of discovery behind the notes and into the mysteries of the musical world. Brendel fascinates each and every listener with his crystal-clear mind, vast musical knowledge, dry wit, and verbal elegance.
'Does Classical Music Have To Be Entirely Serious?' (74 Min.)
'Musical Characters' (72 Min.)
'Light And Shade Of Interpretation' (79 Min.)